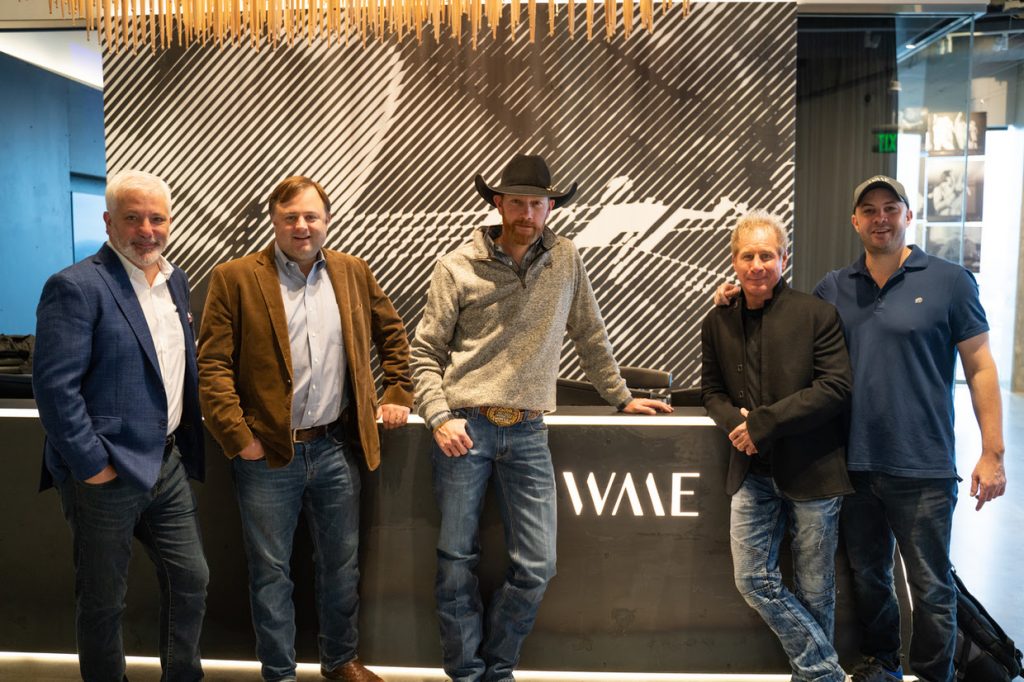 And Performs at PBR World Finals and National Finals Rodeo in Las Vegas

NASHVILLE, Tenn- Among IEBA conference news, today rising neo-traditional country music sensation, Chancey Williams, announced signing with the industries' premier booking agency, WME. Williams has been busy performing over 125 dates this year across the nation, from the National Finals Rodeo (NFR), to the Greeley Stampede with Cody Johnson, and the band is ready to take the next step in their performance career. "I'm really excited to join WME Nashville. One of our goals this year was to sign with a major booking agency and these folks are not only the biggest, but they are the best fit for what we are doing. Everyone over there understands what we are all about and I think we will be a great team together," said Williams of the new venture.

Longtime manager, Dean Kinney of HomeSlice Artist Management, agreed, commenting, "Matt and I have talked about this for a long time. I think we both knew WME was the place where Chancey belongs and we have been seeking the right time. This is that time. We have a lot of big things coming in 2020 and our partnership with WME is key to it. In meetings over the last year with Matt, Henry, Nate, Roeder, Haley…. it just became evident to us that this is where we need to be and it's great to finally make it official."

WME boasts impressive rosters across multiple forms of media and is also home to county music superstars Garth Brooks, Eric Church, Brad Paisley, and Chris Stapleton, among others. Prior to signing with WME, the group has had the opportunity to support dates with Cody Johnson, Casey Donahew and Aaron Watson, as well as share the stage with their heroes, like Toby Keith, Alabama and Dwight Yoakam.Williams will be performing at the PBR World Finals this November in Las Vegasand will return in December during the National Finals Rodeo for performances at The Thomas & Mack Center, The Southpoint Casino, Gilley's and The Mirage.Renewing the traditional roots of country music for young fans and old spirits who covet authenticity in his honest ode to the Old West, Williams was recently chosen to represent Wyoming as one of the five artists featured in the USA Through Music campaign that airs as a short film on BBC World News. Williams also recently became the only country music star to enter into a multi-year endorsement deal with CINCH® Jeans & Shirts.
The saddle bronc rider turned singer-songwriter's latest album, Rodeo Cold Beer, debuted in the Top 10 on the iTunes Country album chart.The current single off the forthcoming album, "Tonight We're Drinkin'," debuted at no. 6 on iTunes New Country Chart and made it's live debut at the sold-out 98th annual Greeley Stampede, prior to Cody Johnson's performance. "Tonight We're Drinkin'," was co-written by Jody Stevens (co-producer on Luke Bryan's Kill the Lights album). This upbeat country tune is the third single off their forthcoming album produced by country music hitmaker Trent Willmon (who also produced Cody Johnson) and is bound to get listeners in the mood for a night out on the town.

Country Rebel debuted Williams' second single off the album, "Wyoming Wind," a classic, country ballad that has won the hearts of traditional country music fans.

"'The World Needs More Cowboys,' the first single release from the album, is a fun song and anthem, but also captures the way I feel about the American West and the high character of the people here," said Williams. Read more about the single in William's Q&A with Cowboys & Indians Magazine HERE.

Fans can purchase or stream "Tonight We're Drinkin'," on all digital platforms and streaming apps including iTunes, Spotify and Apple Music.
Click HERE for a list of tour dates. For Booking, please contact Matt Malcolm at WME MMalcolm@wmeagency.com

Follow Chancey Williams & the Younger Brothers Band on Facebook, Instagram and Twitter