Neo-traditional country music sensation Chancey Williams announces his Grand Ole Opry debut, slated for April 22. The news of Williams' invitation to step into the famous Opry circle comes just ahead of the release of his forthcoming album, One of These Days, out 3/24. The saddle bronc athlete-turned-artist has been praised for writing and performing with an "honesty that feels real…and quite timely" (Taste of Country), cementing Williams as the next authentic cowboy in country music.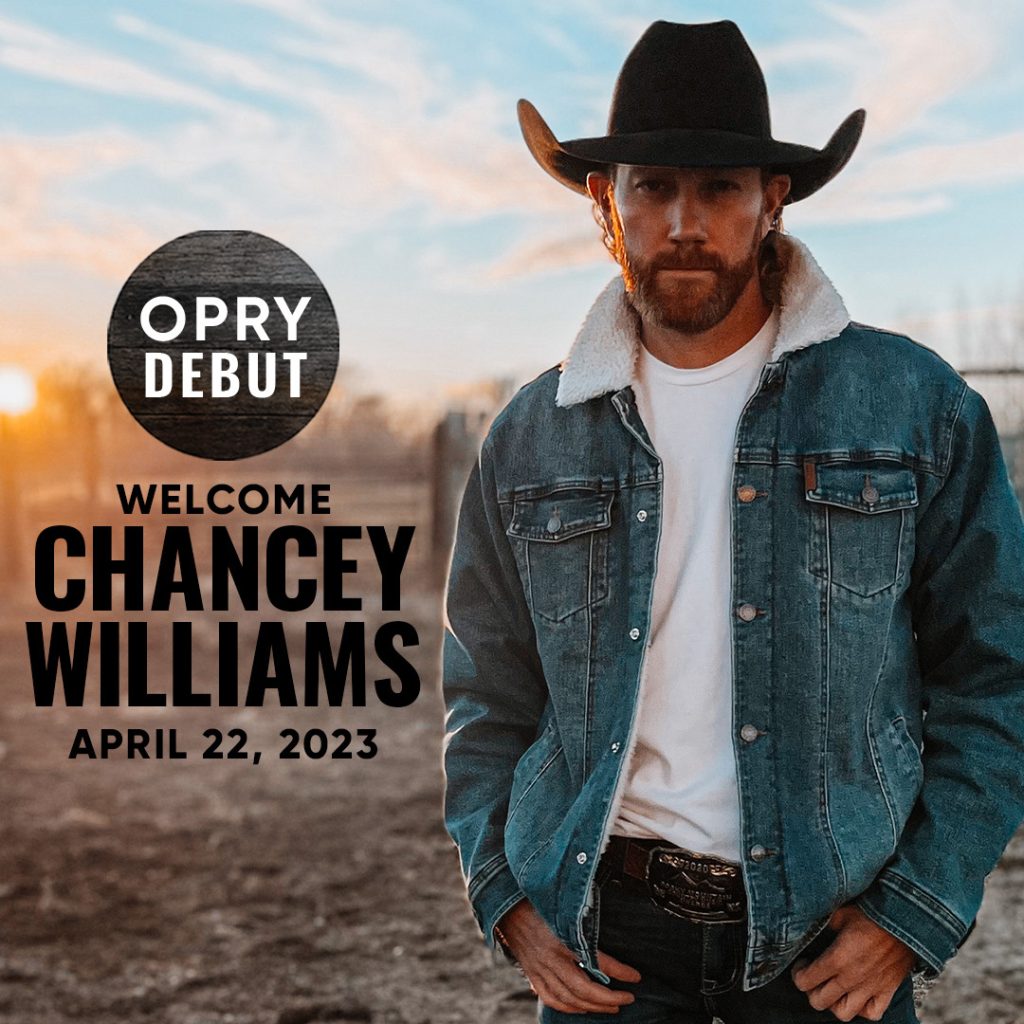 "It's unbelievable," said Williams of the news, "We've been fortunate to have a lot of great dates over the years. Growing up just a ranch kid from Wyoming, I never thought any of this would happen. First, we got to play Cheyenne Frontier Days. Then, a couple years ago, we got the call for the Ryman Auditorium—that didn't feel real either. Now we're being invited to make our Grand Ole Opry debut—it's like winning the lottery. We all dream about it but not many people actually win. It's the home of country music. Everyone I grew up idolizing has stood exactly where I'm about to be."
Williams' debut Opry performance takes place amidst a busy touring season that includes stops in Ariz., Mo., Ind., Calif., Texas, N.M., Okla., Kan., and his native Wyo. as both a headliner, as well as occasional support for Texas troubadour Aaron Watson.
The 12-track One of These Days will feature several previously released tunes, including "old school… eye-for-an-eye" (Digital Journal) barn burner "The Saint," "festive boot stompin' Irish jam" (Whiskey Riff) "On the Tear Tonight," tempo, play on words "Look Good Leavin'," "poignantly weighty" ballad (The Country Note) "If I Die Before You Wake," refreshingly honest, beat driven "Blame It On the Rain," and "Hideaway" – "a mellow song with Western roots and a bit of an island vibe" (My Country 95.5). In addition to six previously released songs, One of These Days will feature six new tracks – from upbeat, lovestruck "Bordertown Whiskey," to the retrospective, bittersweet "Talk About a Memory," as well as the title track – which will serve as the new single.
Get your tickets to see Chancey at the Grand Ole Opry HERE.